Managing your stock portfolio is easier than ever before!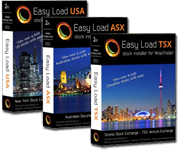 You simply won't believe how easy it now is to view ALL of your favorite stocks in NinjaTrader.
NinjaTrader 7 is an award winning, free-to-use charting platform used by traders worldwide. NinjaTrader comes pre-configured with some trading instruments such as currencies, top 500 US stocks and common international futures, however does not have any configuration, stock codes, symbol mapping or instrument lists for many of the worlds largest stock exchanges, including Australian ASX, Canadian TSX & TSXV, UK LSE or US NASDAQ/NYSE/AMEX equities, indices and supported data providers.

Our Easy Load equities add-on/installer range fills this gap, making it possible for traders to now easily view many of the worlds leading stock exchange equity and index charts with the award winning and free to use NinjaTrader 7 application.

The combination of NinjaTrader 7 and the Easy Load installer range provides an extremely cost effective way to chart your stock portfolio and manage your investment decisions.



'Easy Load' equities installer key advantages include:
Stocks from the world's largest stock exchanges automatically installed & fully configured
Works seamlessly with multiple supported NinjaTrader data providers (including Kinetick, Interactive Brokers, eSignal, DTN IQFeed, & barchart.com)
All done in just a few clicks… it couldn't be easier!!
The Easy Load installer fully configures and installs within NinjaTrader all stock codes, watch lists & templates for many of the world's largest stock exchanges including …

AUSTRALIA | 'Easy Load' ASX for NinjaTrader
Australian Securities Exchange [more info]


CANADA | 'Easy Load' TSX for NinjaTrader
Toronto Stock Exchange & TSX Venture Exchange [more info]


UNITED KINGDOM | 'Easy Load' LSE for NinjaTrader
London Stock Exchange [more info]


UNITED STATES | 'Easy Load' USA for NinjaTrader
NYSE, NYSE MKT (formally AMEX) and NASDAQ Exchanges [more info]

allowing for fast, seamless access to these instruments across multiple supported NinjaTrader data-feed providers, including:

Kinetick (Free EOD and Live Data);
eSignal;
DTN IQFeed;
Interactive Brokers; and
barchart.com
It's that easy, plus you'll also receive 4 instructional videos to get you started!

'Easy Load' Feature Comparison (Click to enlarge)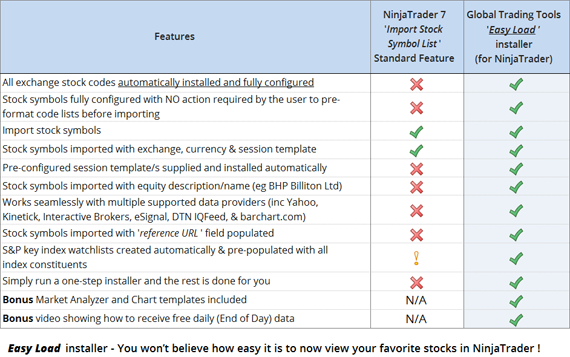 For anyone that wants to use NinjaTrader to chart ASX shares, I highly recommend using the Easy Load ASX installer by Global Trading Tools.
~ Matt Cave (via Twitter) @MatthewCave
Man – that is great support … thank you Stuart – many traders are in the position I am in.
I am certain that if you give this kind of REAL help, your business can not help but prosper.
Thank you heaps
~ Ivan B, Queensland
When combined with NinjaTrader's award winning, free to use charting platform, plus access to Kinetick free EOD data feeds, this provides an extremely easy & cost effective way to chart and manage your stock portfolio.

Current 'Easy Load' Stock Exchanges available …

AUSTRALIA | 'Easy Load' ASX for NinjaTrader
Australian Securities Exchange [more info]


CANADA | 'Easy Load' TSX for NinjaTrader
Toronto Stock Exchange & TSX Venture Exchange [more info]


UNITED KINGDOM | 'Easy Load' LSE for NinjaTrader
London Stock Exchange [more info]


UNITED STATES | 'Easy Load' USA for NinjaTrader
NYSE, NYSE MKT (formally AMEX) and NASDAQ Exchanges [more info]



---
If you'd like to be informed when new 'Easy Load' Stock Exchanges are released, please sign up to our "Member Benefits" list or send an email to info@GlobalTradingTools.com