Why Keeping A Trade Journal Is Critical!
As traders we are continually challenged by the prospect of making decisions in the face of uncertainty. It is therefore imperative to place trades based on a trading plan/system which has positive expectancy (a proven edge) over the long-term and learn to think in terms of probabilities.
No matter what type of trading you do… discretionary trading, copy trading, trade fundamentals or with technical analysis indicators, keeping a trade journal (also commonly referred to as a trade log or trading diary) is a critical, yet often overlooked, component of this process. It is not just for seeing the reward risk ratio and profit or loss equity curve, but for helping assess where a trader may be straying from their trading plan and a detailed understanding of trading performance. Even setting up a good trade journal initially, irrespective if it is software or spreadsheet based, is an excellent exercise that forces a trader to define exactly what they are looking for to enter/exit/manage trades!
If you're not happy with your trading results, and are not fully documenting and analyzing your trades, then starting a trading journal to assist the decision-making process is essential.
Trading Journal Spreadsheet® Review

Created for traders who want the most sought after analytics and full control over their trading strategy reporting.
This highly regarded Excel spreadsheet trade journal product includes the most sought after analytics, Expectancy Calculator, Drawdown Calculator, Milestones Sheet, Position Size Calculator, Reporting Analysis, and more.
The Trading Journal Spreadsheet (TJS) software turns raw trading data into refined evaluation analysis, which is critical for the decision-making process. Track every move you make in multiple (customizable) performance tracking categories.
One time fee and free support.
Single Market, only $129 USD
Stock & Options, only $149 USD
All Markets, only $199 USD
5-Steps to profitable trade tracking
◊ Plan it … ◊ Trade it … ◊ Track it … ◊ Identify … ◊ Improve!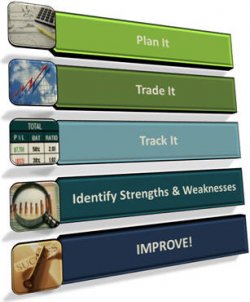 Plan It: Customize the TJS Tracking sheet to "track" what's most important to you and your business.
Trade It: To gain the experience needed to perfect your trading plan, you'll need to actively trade.
Track (Record) It: Record your trade information into the TJS Trading log. All pertinent stats are displayed in the Tracking sheet for analytical viewing.
Identify Strengths & Weaknesses: The TJS notifies you of which trading categories are producing a positive expectancy, and which are not.
Improve: You'll soon have the knowledge needed to trade confidently, to perfect your plan, and know when it's justifiable to increase or decrease risk amounts.
Trading Journal Spreadsheet (TJS) Elite product versions:
Stocks
Options
Stocks & Options
Futures
Forex
SpreadBetting
CFD's
"All-in-One" (All of the above markets are included, in one file!)
Easily delete the markets you don't trade.
Whether you're looking for a forex trading journal spreadsheet, stock trading journal or trade log for any of the online trading styles listed above, Greg Thurman's Trading Journal Spreadsheets cover every required feature, function extremely well and great value for money.
The most Valued and Easy to use Trade-tracking tool on the market
ONE TIME FEE AND FREE SUPPORT.Single Market, only $129 USD
Stock & Options, only $149 USD
All Markets, only $199 USD