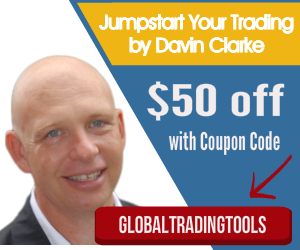 Jump-start Your Trading is a 6 week online trading course offered by highly respected professional trader, Davin Clarke. The course is the culmination of many years of his trading experience. This trading education will provide traders, as well as investors, the tools to effectively evaluate financial market conditions, find high reward to risk opportunities and implement a sound trading strategy.

Jumpstart Your Trading (by Davin Clarke) course review
I am very proud to review and recommend trading education provided by Australian trader, Davin Clarke for a number of reasons:
Traders should always consider the reputation the trading educator. Davin Clarke's reputation is impeccable. He is a highly respected and sought after professional trader in Australia. I have spoken with Davin about his training material, reviewed this trading course content, and have personally completed previous trading courses run by Davin.
I highly recommend his training for all level of traders;
The trading methodology, trading strategies and general course content, included in this program has practical application in a live online trading environment. Davin personally uses these same trading strategies and methodologies for well over a decade; and
Davin's trading course is priced at only $897 (Australian Dollars). We also have a AUD 50 discount coupon available below. As anyone who has considered trading education would be aware, many financial market trading educators are often charging thousands of dollars for. Some even charge in excess of $10000, for training and trader education significantly inferior to the material Davin Clarke is providing in the Jumpstart Your Trading course.
The reputation of Davin speaks for itself! He has over 15 years experience as a fulltime professional trader. His extensive trading experience covers shares, options, foreign exchange and the futures markets. Davin is a sought after and popular speaker throughout Australia.
With his keen insights into market dynamics and market structure, two of Australia's major banks, Westpac Bank and Commsec, have sought his specialist trading knowledge to deliver keynote presentations. These presentations were delivered to the banks high value clients in Melbourne, Brisbane and Sydney.
In addition, Davin has co-founded the global CFD brokerage firm TD365, so his experience in the trading industry speaks for itself.

Risk Warning: When opening a live account your capital is at risk

Davin Clarke has also featured in a number of books including:
Real Traders, Real Lives, Real Money;
20 Most Common Trading Mistakes: How You Can Avoid Them; and
This training course is designed with both new and experienced traders in mind. You will create a personalised trading 'business plan' as the principles of creating any successful long-term business also apply to online trading.
Course lessons cover approximately four weeks of content and include :
The Business of Trading
Trading Plan Workbook
Four Critical Concepts for Success
Reading Price Action using Candlestick Charting
Market Structure Analysis
Premium Trade Zones
Defining Risk using Moving Averages
Effective Trade Entries and Exits
Define your Edge with Trading Statistics
New & experienced traders can now benefit from Davin's extensive trading knowledge via his EliteTradeSkills course… Jumpstart Your Trading. Great value at only AU $847 (after $50 discount coupon applied).

Exclusive Discount Coupon:
Global Trading Tools has negotiated a AU $50 discount off Davin's trading education course. Just ensure you enter the discount coupon code globaltradingtools when purchasing Elite Trade Skills to redeem the $50 discount.