Although bar and candlestick charts both display the same information (high, low, open, and close for a specified period), with bar charts the information may not always be immediately obvious at first glance. For example, did the bar close higher or lower than where it opened. With candlesticks this is obvious at first glance, without having to look closely at the little dashes on a bar chart to know this.
Candlestick charts highlight much more visually, the area between the open and close price, than on a bar chart. For many this can help quickly assess the prevailing market forces and help your mind quickly priortise things.
If you are interested to learn more about candlestick charts, we would like to offer you a complimentary copy of our "Candlesticks Made Simple" presentation.
This material will provide you with the fundamental knowledge necessary to help you begin using candlesticks in your trading.

Click here to view and download the presentation

An example from Global Trading Tools "Candlesticks Made Simple" presentation
(download link above):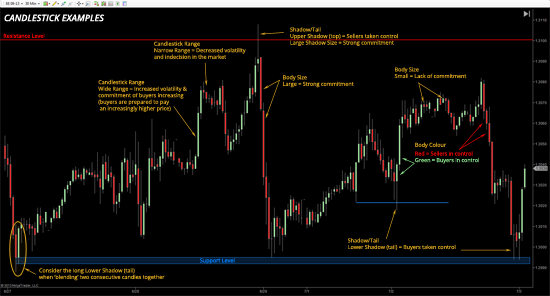 Thank you and good trading.
RISK WARNING:
You understand and acknowledge that there is a high degree of risk involved in trading securities, currencies/foreign exchange and/or derivative products. Trading securities, currencies/foreign exchange and/or investment in derivatives can be very speculative, involves considerable risk, may result in losses and is not suitable for every investor. Global Trading Tools does not take into account the objectives, financial situation or needs of individual users. Hence, You should carefully consider whether trading in securities, currencies/foreign exchange and derivative products is appropriate for You in the light of your financial circumstances. You should be aware that dealing in products that are highly leveraged carry significantly greater risk than non-geared investments such as share trading. As such, You could both gain and lose large amounts of money. You may sustain losses in excess of the moneys You initially deposit and also in excess of the margin required to establish and maintain any positions in leveraged products.
No representation is being made that any account will or is likely to achieve profits or losses similar to those discussed in any form of media (including but not limited to web sites, email, print or banner advertising, social media sites and/or Global Trading Tools affiliates) by Global Trading Tools.
The past performance of any trading system or methodology is not indicative of future results.

THIS ARTICLE IS FOR EDUCATIONAL PURPOSES ONLY.