For anyone looking to easily view all NSE charts (+1,550 stocks), and Nifty 50 charts in NinjaTrader using major NSE data feed providers Yahoo free EOD data, eSignal, or Interactive Brokers data, we are so pleased to announce the launch of our Easy Load NSE (National Stock Exchange of India) equities installer for NinjaTrader.
How to easily view NSE charts in NinjaTrader …
The 'Easy Load' NSE is a unique one-step stock installer, which when combined with NinjaTrader's award winning, free to use charting platform, provides an extremely cost effective way to view NSE charts and perform technical analysis on any National Stock Exchange of India (NSE) and nifty 50 charts.
Just 3 easy steps …
Run the "Easy Load" NSE installer; and
Connect seamlessly with ANY of the supported NSE data feed providers
(including: Interactive Brokers, eSignal, & Yahoo Finance free EOD data)
It's that easy !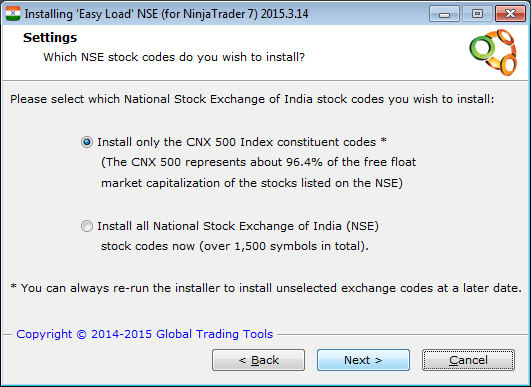 Easy Load NSE data feed support
The Easy Load NSE seamlessly supports three different NSE data feeds, including:
Yahoo free EOD data,
eSignal, and
Interactive Brokers.
This product has been a long time in the making due to the complexities in ensuring all our nseindia codes worked correctly & seamlessly with the Yahoo Finance NSE data feed, in addition to eSignal and Interactive Brokers data feeds.
We're happy to confirm this has been fully finalized and tested for all NSE stock codes. A big thanks must go out to Paul Jilek for his fantastic work helping to ensure all our symbol mappings for the Yahoo Finance free NSE data feed are correct.

---
The release of this product expands our NinjaTrader 'Easy Load' equities installer range to four products now, and allows NinjaTrader users to view ALL stocks from many of the largest stock exchanges in the world including:
New York Stock Exchange (NYSE)
NASDAQ
NYSE MKT (formally AMEX)
Toronto Stock Exchange (TSX)
TSX Venture Exchange (TSXV)
Australian Securities Exchange (ASX), and now
National Stock Exchange of India (NSE)
For more information on our highly acclaimed "Easy Load" equities installers for NinjaTrader please visit
You won't believe how easy it now is to view ALL your favorite NSE charts in NinjaTrader!