Managing your Australian Securities Exchange (ASX) stock portfolio is easier than ever before.
You won't believe how easy it is to now view ALL of your favorite ASX stocks in NinjaTrader !
NinjaTrader is a free to use, leading charting platform, packed with functionality and used by traders worldwide. The "Easy Load" ASX installer adds to this great product by automatically loading, and fully configuring well over 2000 Australian stock codes (ASX).

[frame type="lifted" align="none" title="View all ASX shares in NinjaTrader with ease !"][/frame]

Our unique one-step installer combined with NinjaTrader, provides an extremely cost effective way to manage your investment decisions.
We've taken out all the time and effort of manually updating and mapping each ASX code to multiple data suppliers.
NinjaTrader with the "Easy Load" ASX installer will suit Investors and SMSF who want to chart their investments, Technical Analysts (there are over 100 technical indicators available), self-directed Traders and anyone that wants a great value trading platform and an extremely cost effective way to manage your investment decisions.
Just 3 simple steps …
Connect seamlessly with ANY of the supported data providers
(including: Interactive Brokers, eSignal, & barchart.com ASX data feeds)
'Easy Load ASX' Feature Comparison (Click to enlarge)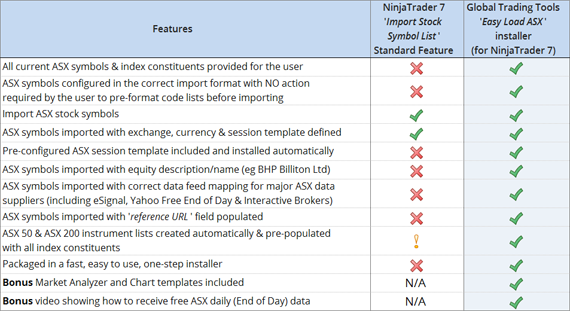 It's that easy, plus you'll also receive 4 instructional videos to get you started if you're new to NinjaTrader… all for the one low price of only $39 – No more to pay!
For more information, please visit…
Thank you and good trading.